London Zoo chief on 'beyond normal' moment Sumatran tigers turned on each other | UK News
A London Zoo chief has described the harrowing moment two tigers suddenly "turned on each other" before the male killed his potential mate and left staff "distraught" and "numb with shock".
In a blog post, the zoo's chief operating officer Kathryn England said the "sheer disbelief was palpable" following the death of 10-year-old Melati.
The female Sumatran tiger was mauled to death by seven-year-old Asim – whose name means "protector" in Arabic – when they met each other for the first time on Friday.
Ms England said plans had initially been going well for the two animals after they lived side-by-side for 10 days separated by mesh.
She said they seemed "comfortable" with each other, ate breakfast "within feet of each other" and were frequently heard making greeting noises at each other – or "chuffing".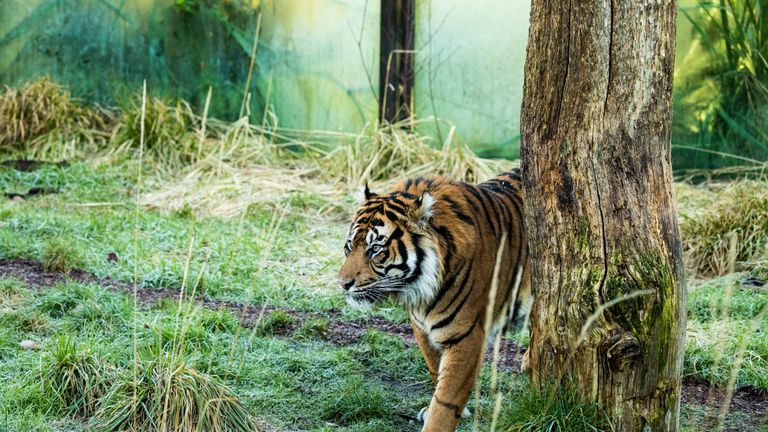 "It might be the human equivalent of a saying 'hello lovely, how are you?'," she said.
She said staff were "confident" the time was right for the animals to meet face to face.
Ms England said at first there was a "certain amount of posturing" from Asim, which she said was "natural".
She continued: "They swiped at each other and reared up – all quite a normal part of them testing their boundaries. But in the blink of an eye, with no obvious provocation, they turned on each other and our years of experience told us it was beyond normal.
"The initial skirmish lasted a few seconds and we were already reacting. Asim started to retreat and we were poised to close the gate when Melati lashed back out at him.
"He overpowered her in a split second. Everyone sprang into action; lighting flares, sounding airhorns and setting off fire extinguishers and hoses."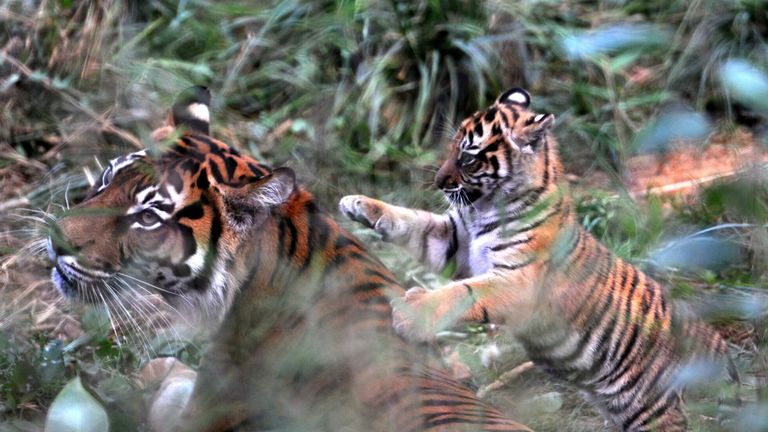 By the time staff were able to close the gate after Asim's retreat, Melati – whose name means "jasmine flower" in Indonesian – had been killed.
"It took moments. Everyone was numb with shock, and the sheer disbelief was palpable," said Ms England. "As soon it was safe our vets ran to Melati with every hope they might yet save her, and even these experienced professionals of the zoo world were entirely distraught to find they couldn't."
She paid tribute to the animal who she said "captivated everyone" and was "beautiful, majestic, spirited – and every inch a tiger".
When Asim arrived at the zoo from Denmark at the end of last month, he was described as "strapping".
Head tiger keeper Kathryn Sanders said at the time: "Asim is a handsome, confident cat who is known for being very affectionate with the ladies in his life – we're hoping he'll be the perfect mate for our beautiful Melati."
The World Wildlife Federation considers Sumatran tigers critically endangered and estimates there are less than 400 left in the wild.