Ban on in-play TV gambling adverts is denied as betting stocks lose
Gambling shares have fallen sharply amid a report that the industry has agreed to a ban on so-called 'whistle-to-whistle' sportsbetting TV adverts.
Sources told Sky News there was outrage in the sector after the BBC said a voluntary deal had been secured amid political pressure to help combat problem gambling.
But the Remote Gambling Association (RGA), which presides over the industry code and counts Bet365, Betfred, Ladbrokes, Paddy Power and William Hill among its members, denied that was the case.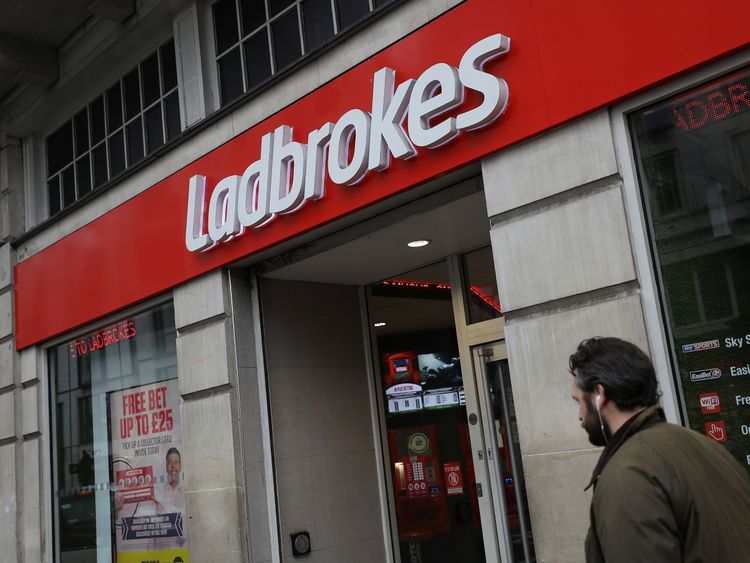 :: Gambling Commission: 55,000 kids have problem
It said on Thursday: "The Gambling Industry Code for Socially Responsible Advertising is reviewed annually, and several options are currently being considered as the basis for possible enhancements in 2019.
"However, nothing has yet been finalised."
Sky News reported last month that the banning of 'in-play' ads during live broadcast of football and other matches was among the measures being discussed during the review.
Others included outlawing pre-watershed advertising and restricting the number of gaming ads to one per commercial break.
Shares in listed gambling firms tumbled when the stock market opened amid a wider plunge in market values mostly linked to the US-China trade war.
William Hill was 4% lower while GVC Holdings, which includes Ladbrokes, was off by more than 5%.
The report of a deal prompted Labour to claim victory in its attempts to secure concessions from the industry – already hit by looming reforms to fixed-odds betting terminals and reports a levy aimed at funding help for problem gamblers could be made compulsory.
Shadow culture secretary, Tom Watson, said: "We're delighted that gambling operators have adopted Labour's policy of a whistle to whistle ban on gambling advertising during live sport.
"With over 430,000 problem gamblers in the country, many of them children, the number of adverts during live sports had clearly reached crisis levels.
"There was clear public support for these restrictions and I'm glad that the Remote Gambling Association has taken its responsibilities seriously and listened."